To prevent and effectively treat Alzheimer's disease
Dr. Alois Alzheimer first diagnosis
Alzheimer's disease got the name from Dr. Alois Alzheimer. He first noticed changes in the brain tissue of a woman who had died of an unusual mental illness. Her symptoms included memory loss, language problems, and unpredictable behavior. After she died, he examined her brain and found many abnormal clumps (now called amyloid plaques) and tangled bundles of fibers (now called neurofibrillary, or tau, tangles).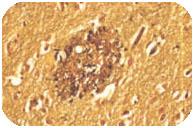 Neurofibrillary, or tau, tangles
These plaques and tangles in the brain are still considered some of the main features of Alzheimer's disease. Another feature is the loss of connections between neurons in the brain. Neurons transmit messages between different parts of the brain, and from the brain to muscles and organs in the body.
General assumption that this is an unusual and untreatable degenerative disease of middle age and defined as "presenile dementia."
Founding of National Institute on Aging (NIA)
The National Institute on Aging (NIA) is established as one of our National Institutes of Health (NIH). The NIA is our primary federal agency supporting Alzheimer's research.
Dr. Robert Katzman editorial: "The Prevalence and Malignancy of Alzheimer's Disease" – in journal Archives of Neurology.
In the 10 years preceding his editorial, which called Alzheimer's a "major killer" and the fourth leading cause of death in the United States (after heart disease, cancer and stroke), fewer than 150 scientific articles had been published about the disease.
Dysfunction of acetylcholine containing neurons described and cholinergic hypothesis suggests treatment possibilities.
Beta-amyloid, the chief component of Alzheimer's brain plaques and a prime suspect in triggering nerve cell damage, is identified by San Diego researcher

George Glenner

.
Tau protein identified a key component of tangles 
This is the second pathological hallmark of Alzheimer's disease and another prime suspect in nerve cell degeneration.
First encouraging Alzheimer's drug trial
Tacrine – boosts acetylcholine in the brain by interfering with acetylcholine breakdown.
Alzheimer's Disease Cooperative Study (ADCS) launched
Funded by NIA and led by Leon Thal.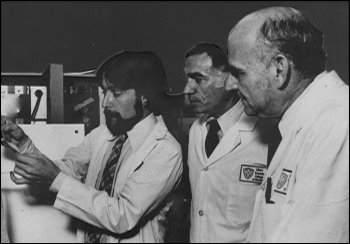 Tacrine is approved; three similar drugs follow.
Former U.S. President Ronald Reagan Alzheimer's diagnosis is announced.
Memantine is approved, representing a second therapeutic class for AD.
The Alzheimer's Disease Neuroimaging Initiative (ADNI) was funded by National Institute of Aging (NIA) plus contributions from pharmaceutical companies in 2004 to optimize biomarker assessments in support of AD therapeutic trials. This multicenter project would grow to be conducted across 63 sites studying three cohorts, cognitively normal individuals, those with mild cognitive impairment and those with mild AD dementia, with MRI, lumbar puncture for spinal fluid analysis, and cognitive and clinical assessments longitudinally. Amyloid PET imaging was added to the ADNI protocol in 2005, and tau PET was added in 2015. Remarkably, ADNI shares all data collected as soon as it is quality-controlled; this aggressive data sharing has resulted in over 2000 peer-reviewed publications using ADNI data. The coordinating center for ADNI moved to USC ATRI in 2015. ADNI data has been instrumental to the design of most therapeutic trials in the field. The latest application to continue ADNI has been submitted.
NIA's Alzheimer's Disease Preclinical Drug Development program is established.
The National Plan

establishes five ambitious goals to both prevent future cases of Alzheimer's disease and related dementias (AD/ADRD)
1 – Prevent and Effectively Treat Alzheimer's Disease by 2025.
2 – Optimize Care Quality and Efficiency.
3 –Expand Supports for People with Alzheimer's Disease and Their Families.
4 – Enhance Public Awareness and Engagement.
5 – Track Progress and Drive Improvement.
Landmark
a

nti

a

myloid treatment in

a

symptomatic

A

D (A4) Study Launched
A major milestone was the launch of the Anti-Amyloid treatment in Asymptomatic Alzheimer's (A4) Study.  A4 is the first multicenter trial in sporadic preclinical (pre-symptomatic) Alzheimer's disease (AD). The idea for this project arose from analysis of longitudinal observational data from the Alzheimer's Disease Neuroimaging Initiative (ADNI) that indicated that amyloid elevation in brain in clinically normal individuals is associated with subtle cognitive and biomarker evidence of decline.  Thus 'preclinical AD' may be the optimal stage at which to intervene with anti- amyloid therapies, with sensitive cognitive tests as well as secondary biomarker measurements as outcomes to establish efficacy. A4 was initially funded as a project of the ADCS.  Solanezumab, a monoclonal antibody against monomeric amyloid peptide was selected as the therapeutic, and a public private partnership with Eli Lilly and NIA was established to carry out the trial, with additional funding contributed by philanthropic groups. A4 transitioned to USC ATRI in 2015 and was fully enrolled with 1169 randomized participants across 67 sites by the end of 2017. It will be completed near the end of 2022. In a first for a Phase 3 trial, A4 pre- randomization data, which provides the largest dataset on amyloid accumulation in clinically normal individuals, was publicly released one year after completion of enrollment.
ATRI founded as a San Diego Institute of USC
The Alzheimer's Therapeutic Research Institute (ATRI) was founded by Paul S. Aisen, MD  and a group of about 40 faculty and staff who had been working together for many years at the Alzheimer's Disease Cooperative Study (ADCS), which at the time was the primary National Institutes of Health (NIH) funded program conducting clinical trials in Alzheimer's disease (AD).  
Located in San Diego and part of the University of Southern California (USC) Keck School of Medicine, the mission of ATRI is to accelerate the development of effective therapies for AD.  
ATRI was designed to facilitate effective academic-industry collaborations with major administrative support from USC.  Its structure is unique among USC institutes. The faculty members, while pursuing their own independent research, are all actively involved in the institute's primary mission, and so constitute a well-aligned research team. The expertise at ATRI is multidimensional, with world renowned scientists and a research team across multiple disciples working together within a team science environment in the systematic pursuit of establishing the most innovative and collaborative global clinical trials program in AD therapeutics. This highly experienced research team, with expertise in biomarkers, biostatistics, clinical monitoring, clinical operations, finance, informatics, regulatory, recruitment, and medical safety, and an independent Data and Safety Monitoring Board, allows ATRI to efficiently conduct international multicenter clinical trials and other large clinical research studies . The embedded USC human resources and contracting enable efficient large-scale operations.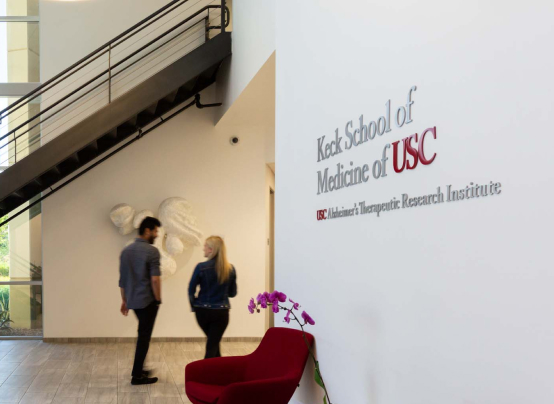 Alzheimer's Clinical Trials Consortium (ACTC) formed
In 2016, NIA released a funding opportunity announcement inviting applications for a new academic network called the Alzheimer's Clinical Trial Consortium (ACTC).  The announcement incorporated many new ideas resulting from the decades of experience in the field, including the value of a central institutional review board, standing support for trial sites and separation of project funding from the parent grant mechanism, among others. The first ACTC grant was awarded to a team of investigators at three institutions, USC, Harvard and the Mayo Clinic.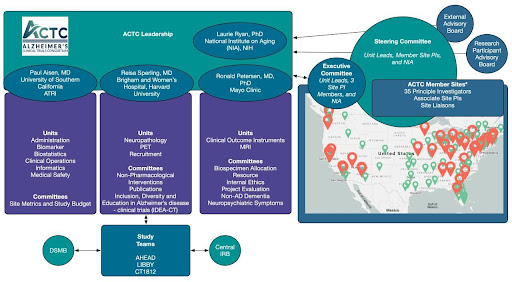 ATRI marks five year anniversary
In the first five years since its formation, ATRI has established itself as a global Alzheimer's disease research institute conducting high quality research attracting funding from the public and private sectors.  The initial team of 40 has grown to include seven faculty with academic appointments at the USC Department of Neurology and approximately 170 research and administrative staff.  
Major collaborations with the National Institutes of Health (NIH), Alzheimer's Association and several industry partners make ATRI one of the largest and most successful independent programs, both at USC and elsewhere.  ATRI continues to be an evolving enterprise; in terms of clinical trials, grants and publications.